iCarsoft VOL V1.0 Volvo / Saab diagnose apparaat
iCarsoft VOL V1.0 Volvo / Saab diagnose apparaat
De iCarsoft VOL V1.0 is een diagnoseapparaat voor de automerken Volvo en Saab. Bij deze beide merken kan de OBDII / EOBD (motormanagement) uitgelezen worden, als ook vele andere aanwezige systemen. Ook kan de olie/service gereset worden. De VOL V1.0 is geschikt voor modellen van bouwjaar 1997 t/m heden (zie functielijsten onderaan de pagina voor de exactie voertuig- en systeemdekking). Uw Volvo / Saab uitlezen gaat met dit uitleesapparaat snel en makkelijk.
✓ EOBD/OBD2
✓ OBD1
✓ Foutcodes uitlezen en wissen in alle aanwezige systemen
✓ Live data weergave
✓ Olie/service resetten
Read more
Got a question about this product?
Our team is ready to answer all your questions.
FAQ
Contact us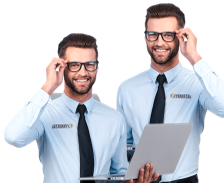 iCarsoft VOL V1.0 Volvo / Saab diagnostic device
The iCarsoft VOL V1.0 fully reads Volvo and Saab models. With the VOL V1.0 you can read out the engine management as well as many other systems such as Engine, Airbag, ABS, ESP and Transmission. Should error codes be found in a system, you have the option of clearing the error code with the iCarsoft VOL V1.0. For accurate diagnosis, the VOL V1.0 also allows you to display live data in different systems. In addition to diagnostic capabilities, you can also reset the oil/service interval.
How does the error code reader iCarsoft VOL V1.0 work?
The iCarsoft VOL V1.0 is a diagnostic device with extensive diagnostic capabilities and it is very easy to use. When you connect the VOL V1.0 to your car, after the car is turned on the ignition, you can read the OBD2 (engine management) of your car, or you can read various other systems. When error codes are found, they are displayed with description on the device. Of course, it is also possible to clear these error codes with the VOL V1.0.
The iCarsoft VOL V1.0 can reset oil/service intervals and reads and clears errors in all systems such as:
Engine
Transmission
ABS
Airbag
Air conditioning
Instrument panel
Tires
Seats
Body
Chassis
Doors
Brakes
Lighting
Communication
What gets delivered with the Volvo / Saab scanner iCarsoft VOL V1.0?
iCarsoft VOL V1.0 Volvo / Saab reader
USB cable
Manual
Sturdy nylon storage bag
Works on the following Volvo and Saab models:
850
960
C30
C70
C70 Coupe
C70 Cabrio
S40
S60
S70
S80
S90
V40
V40CC
V50
V60
V70
V70 XC
V90
XC60
XC70
XC90
9-5 (1998 to 2010)
9-3 (1998 to 2012)
9-3 Sport (2003 to 2012)
9-7 (2005 to 2009)
Carvitas supplies only original iCarsoft products, supplied by iCarsoft Netherlands.

Advantages & drawbacks
Volledig EOBD/OBD2 compatibel
Beperkt OBD1 compatibel
Foutcodes uitlezen en wissen in alle aanwezige systemen
Live data en freeze frame weergave
Speciale functie: Olie/service reset
Enkel geschikt voor Volvo en Saab
Often purchased together with...
Specs summary
Manufacturer

Saab, Volvo

Device properties

Gratis updates, Uitleesapparaat, Updates

Features

ABS, Airbag, Foutcodes wissen, Freeze frame, Lambdasonde / o2 sensors, Live data, Motor uitlezen, Motormanagement reset, Olie reset, Scantool, Service reset, Transmissie

Protocol

CAN, EOBD, ISO 9141, J1850 PWM, J1850 VPW, KWP-2000, OBD1, OBD2
No reviews have been published.